MagicJelly | Soothing Jellyfish "Lava Lamp" & Night Light
Regular price
$74.99 USD
Sale price
$44.99 USD
Unit price
per
Sale
Sold out
• Free Shipping
Regular price
$74.99 USD
Sale price
$44.99 USD
Unit price
per
Sale
Sold out
Welcome our cool color-changing LED Jellyfish Lava lamp in your lives and amplify the beauty of your indoor space and spread a relaxing ambiance with it. 2 fake jellyfish swim in the water lamp and imitate the realistic flow of the sea which is both calming and exciting. Place it on your side tables or office tables for maximum enjoyment.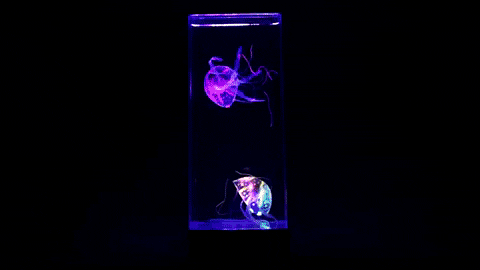 ●     2 realistic jellyfish for unlimited calmness: The silicone jellyfish swim and move around in the water just like real fish and soothe you up. You will need to put them on the surface of the water, press down using a stick and swirl them 2,3 times.
●     Acrylic LED panel: The waterproof LED panel on the base of the device emits green light which provides a multi-colored glow in the lamp.
●     Easy operation: Simply pour water into the lamp, add some glycerin for an added effect and put the fake jellyfish in it one by one before turning it on.
●     USB connector cable: The round LED jellyfish lava lamp is powered by a USB port cable. Included with the package.
●     Use as: An adornment in the house, as a soothing table piece in the office to drive away the tension of the work or give as a gift to your loved ones.
●     Suitable for Both kids and adults. Kids and adults enjoy looking at the realistic movement of the jellyfish. 
The Best Gift For Any Occasion
Best Gift Ideas - Our Original Jellyfish Lamp is a best gift for your Family on the Birthday, Children's day, Christmas, Anniversary  or any other occasion. Also Perfect for indoor decoration as an ocean wave projector, romantic mood light, night lamp, and bedside lamp.
View full details