MagiCupper | Automatic Massage Cupping Therapy Tool | 9 Levels
Regular price
$44.99 USD
Sale price
$44.99 USD
Unit price
per
Sale
Sold out
• Free Shipping
Regular price
$44.99 USD
Sale price
$44.99 USD
Unit price
per
Sale
Sold out
Get rid of pain and muscle tightness and reap the benefits
Physical therapy techniques such as cupping help to restore muscle function, decrease muscle spasms, and eliminate fatigue and pain. In the same way, Gua Sha scraping massage therapy promotes lymphatic drainage and clears the body's meridians, supporting healthy immune function and increasing energy levels. Recently, cupping for reducing cellulite has become increasingly popular, making this massager highly sought after.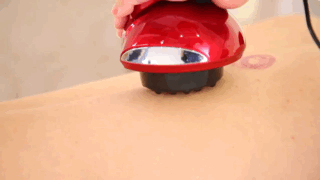 CUPPING THERAPY HAS UNLIMITED BENEFITS
Cupping is used to relieve all kinds of body aches, including back and neck pain, muscle tension, anxiety, migraines, rheumatism, and even cellulite.
 
By using suction and negative pressure, cupping loosens muscles, stimulates blood circulation, and calms the nervous system (making it an excellent way to treat high blood pressure).
Lymphatic drainage is achieved with cupping therapy. Similar to saunas, the pores of the skin facilitate the removal of metabolic waste and toxins.
 
Cupping also has an effect on the digestive system. Improved metabolism, constipation relief, and better digestion are just a few of the benefits.

TIGHTEN LOOSE SKIN & REMOVE CELLULITE
Your skin and underlying tissues will be rejuvenated as you increase your body's blood circulation. It has been performed for centuries and dates back to ancient times.
 
There is no doubt that Gua Sha is far less invasive than acupuncture, even if it does not look pretty. One can reap amazing benefits from this slightly intense treatment.
 
The advantage of this device is that it puts the control in your hands. Depending on your body's preference and tolerance levels, you can select from a variety of settings.
 
Featuring multiple massage modes, 9-levels of negative pressure, and temperature control, our modernized device replaces the old plastic method.


WHAT CAN IT HELP WITH?
Anemia, hemophilia, and other blood disorders
Rheumatic diseases such as arthritis and fibromyalgia
Fertility and gynecological disorders
Skin problems such as eczema and acne
High blood pressure
Migraines
Anxiety and depression
Bronchial congestion caused by allergies and asthma
Varicose veins
View full details