Double Wireless Charging Pad | Mag Safe
Regular price
$59.99 USD
Sale price
$59.99 USD
Unit price
per
Sale
Sold out
• Free Shipping
Regular price
$59.99 USD
Sale price
$59.99 USD
Unit price
per
Sale
Sold out
Hate needing multiple cables and inputs while traveling?
We all know how important a charger is when traveling, but the normal charger charges only one device at a time and is clumsy with cables. If we need to charge multiple devices at the same time it is hard with a single charger. But imagine a super awesome device that lets u charge 3 devices at a time? We all at some point have dreamt of all in one device which can charge the phone, watch, and headphones. Here we bring you the modest Wireless Portable Charging Pad to bring adventure into your life.
Foldable 3-in-1 Portable Charging Pad solves the problem of charging multiple devices at the same time! It can also reduce cable clutter and give you a tidy desktop.
With it, there is no need to worry about running out of mobile phone power when going out and on the road.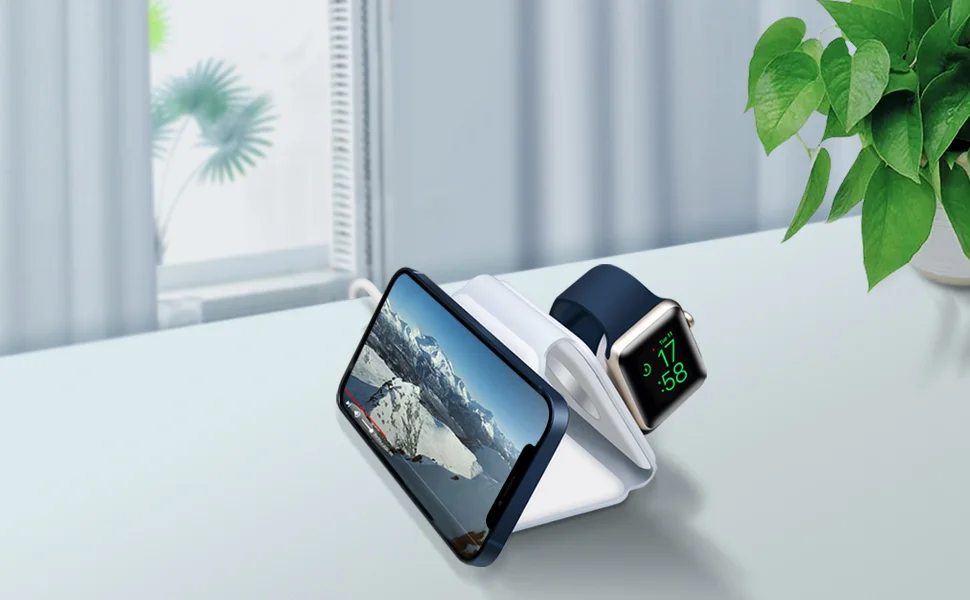 FEATURES OF Charge Spot THAT MAKES YOUR LIFE BETTER:
✅Convert mobile phone bracket:
There are magnets on both sides, which can be folded and adsorbed, and it will immediately become a mobile phone desktop bracket, freeing your hands, which is convenient for fast charging while watching the show.
✅3-in-1 wireless charging pad:
The multi-function 3-in-1 Portable Charging Pad can charge your mobile phone, AirPods, and apple watch at the same time. 15w high power, convenient and efficient, solve the problem of charging multiple devices at the same time.
✅Foldable design:
Soft silicone material can be repeatedly bent. Thin and compact, folding storage does not occupy space. Easy to carry, very suitable for office and travel.


✅ Easy to use and sensitive to identification:
You only need to gently place the device in the center of the corresponding location to charge. The charging board is equipped with an advanced inductive identification chip and a dual-light display design, so the charging status is clear at a glance.

✅ Safety:
The use of a professional magnetic insulation sheet, no radiation, can be used by the elderly and children to protect the safety of you and your family. Provide a better and safer charging experience for your mobile phone.

✅ Pocket size:
After being folded, only half the size of an iPhone, say goodbye to those endless cables and chargers. The small portable fast 3-in-1 Portable Charging Pad for iPhone is the perfect apple accessory for men, women, or girls. This will be a gift that everyone will love.



✅ Case-friendly:
There is no need to turn cases off for charging. Please make sure that cases are under 3mm. Or please use a special magnetic charging mobile phone case, you can charge with confidence!

✅ Place phone horizontally for leisure:
People like its three-dimensional shape, which helps them solve the boredom when waiting for charging, and it looks great. Don't worry about the stability of the magnetic attraction, this is the perfect stand specially tailored for your iPhone 12/13.

✅ Place phone vertically for sociality:
This is an exquisite design, which allows you to place the phone horizontally or vertically when charging. We believe that placing it vertically can better make video calls with friends or family, whether in the office or at the dinner table at home.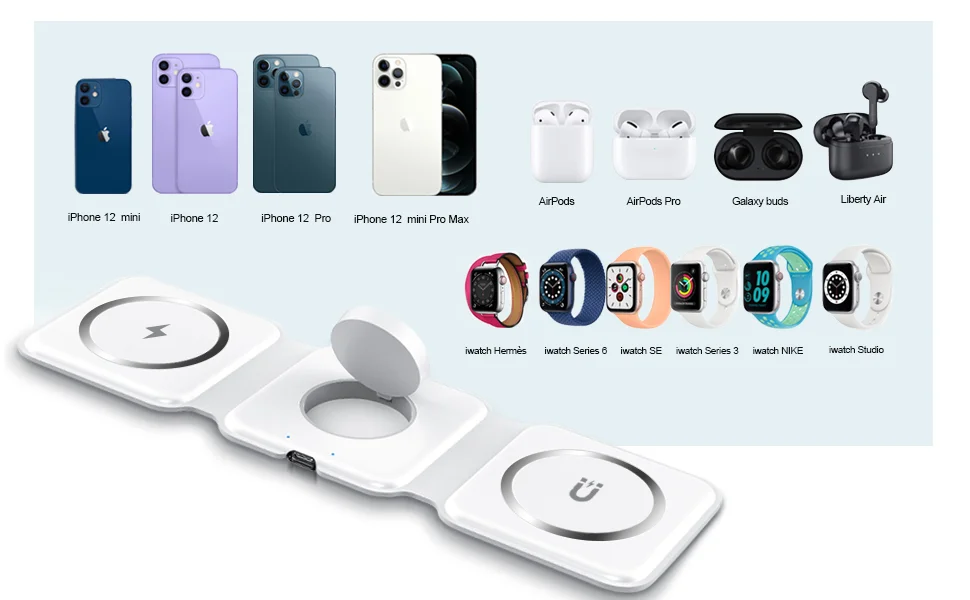 PRODUCT SPECIFICATION:
✅ Product Weight:
2-in-1 Wireless Charger: 150G
3-in-1 WirelessCharger: 223G

✅ Product Size: (L x W x H)
2-in-1 Wireless Charger™: 24 × 12 × 3cm / 9.4 × 4.7 × 1.2inches
3-in-1 Wireless Charger™: 40 × 11 × 11cm / 15.7 × 4.3 × 4.3inches

✅ Package Contents: Charge Spot™× 1

✅ Material: Silicone
✅ Input parameters: 9 (V)
✅ Charging current: 1500 (mA)
View full details