Chainsaw Sharpener | Grinding Stone/Jig for Chains
Regular price
$74.99 USD
Sale price
$42.99 USD
Unit price
per
Sale
Sold out
• Free Shipping
Regular price
$74.99 USD
Sale price
$42.99 USD
Unit price
per
Sale
Sold out
Use this chain saw chain grinding fixture to make your chainsaw as sharp as new, saving you time and money!
It is as easy to use as a pencil sharpener; just set the clamp to the rod, position the pawl on the tooth, insert the burr into the guide sleeve, and turn the handle.
Every time you grind a tooth, you only need to pull the chain. The precise sharpening ensures that every tooth is razor sharp!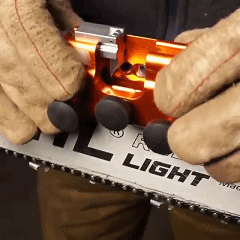 The pawl acts as a stop to ensure accurate and repeatable tooth positioning.
Includes a standard 30° sharpened front angle, an anodized aluminum fixture with a detachable crank and a set of guide bushings. This sharpening jig can be used for practically any chainsaw.
View full details